Buying a Private Island?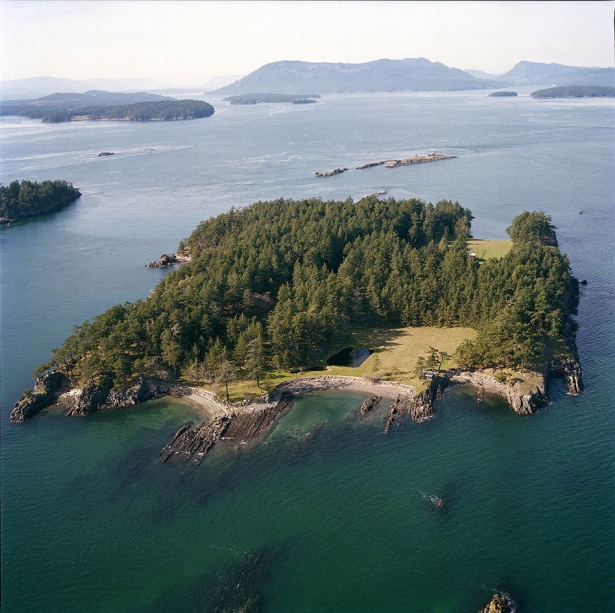 Brethour Island, Gulf Islands BC
The Canadian Gulf Islands are part of the same archipelago as the San Juan Islands in Washington State and have many of the same characteristics. There are about 100 islands in the Gulf Islands area (increasingly referred to as the Southern Gulf Islands) with eight of the larger islands enjoying regularly operated ferry service. The private islands in the Southern Gulf range in size from less than a ¼ acre to more than 1,440 acres The principal attraction in the ownership of an island is the basic feeling of splendid isolation from that other world across the water. Owning an island comes with its own set of unique issues.  If you are intent on buying a private islands, following are what we consider to be the top 10 things to consider:

1.  Location
The location of an island is one of the most critical considerations. Be aware of the surrounding area and the services, amenities, or lack thereof, that are available. Some private islands are close to larger communities, which is attractive to some buyers but a detriment to others. Other islands are less accessible, which again, is attractive to some purchasers and less so to others. Generally, the more remote the island, the tougher the access.
2. Access
Where you live and how you plan to get to the island is a key consideration. Private islands, by their nature, are generally only accessible by private boat or float plane. Traveling by boat from Vancouver to your private island can be very quick (or slow) depending on weather conditions, the speed and stability of your boat and the location of the island. The most common method of transport by many island owners is by floatplane, which is faster and much more convenient than boat travel. Traveling time from the floatplane dock at Vancouver International Airport to your private southern gulf island can take as little as 15 minutes.
3. Improvements
The quality and extent of the improvements are important aspects of any island purchase decision. It is important, as with any home purchase, to gain a good understanding of the nature, age and maintenance requirements of the buildings situated on an island. Some purchasers want to have complete luxury while others are more interested in having limited improvements. The utility served by the improvements is one of the most important factors to consider when buying. An over improved island may prove to be much more difficult to sell because it defines the previous owner's vision more than the new purchaser. The cost of renovating or building new on any island is always higher than in locations where there is ready access to workers and materials.
4. Moorage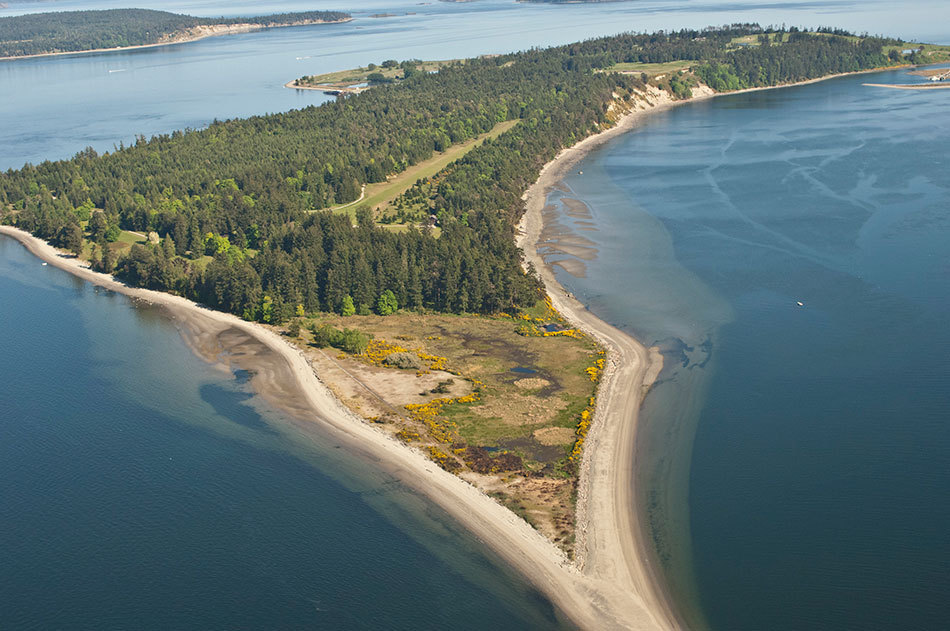 James Island, Gulf Islands BC

Most, but not all islands, have some moorage potential, some islands offer only summer moorage and the floats must be taken in during the winter months. Can you imagine arriving at low tide by boat or float plane with your kids, luggage and groceries and scrambling across slick seaweed, and barnacle covered rocks to get to the dwelling? Many island purchasers own larger vessels that they want to be able to keep close at hand. Good moorage should be a priority consideration.

5. Topography
The larger islands generally offer more interesting elevations because of their size. Many islands have some steepness and some have only cliffs or high banks making access to the sea difficult. Others have low-lying areas and nice open beaches. Water access is an important consideration. Building sites on higher banks offer arguably better views and are better protected from winds. Lower bank waterfront, however, provides that sense of being at one with the ever-changing ocean. Most people prefer low-bank waterfront. Of course, any island that offers differing topography will appeal to differing tastes and preferences.
6. Water Frontage
While the upland area of an island is important, its shoreline will always be the focal point. Whether we are talking about a private island or a waterfront estate on Vancouver Island or the Mainland, the shape of a property often dictates the desirability of the waterfront. An island which possesses a variety of shoreline characteristics is likely best. The mood of each special place is different and will be appreciated differently at different times of the day or year.
7. Flora and Fauna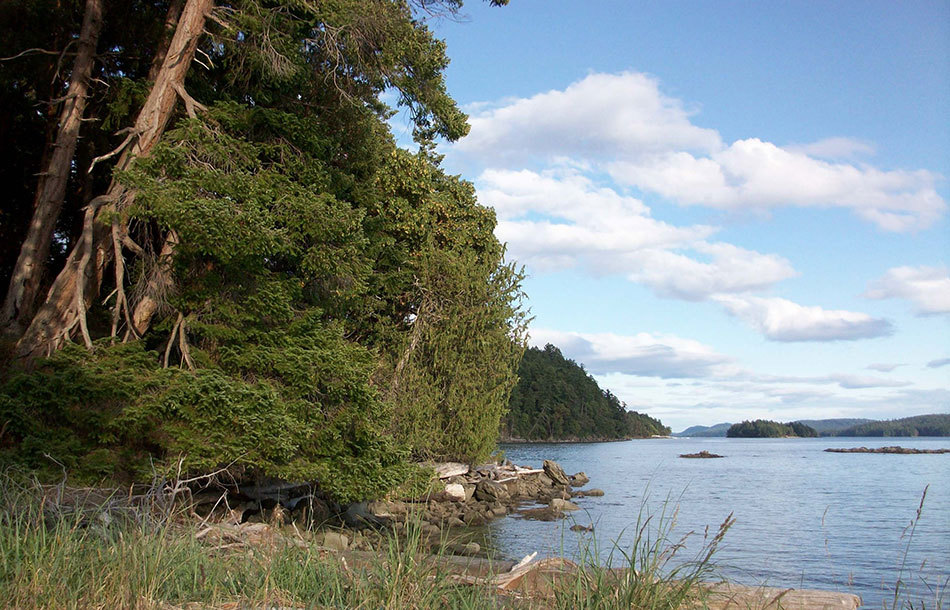 Mowgli Island, BC

Many islands, due to their steepness and rugged nature, tend to have sparse forest cover and almost no ground cover due to the lack of topsoil. Some islands have a great variety of plant life from thick forests to fern clad cool glades, open grassy meadows, swampy areas and even ravines where the forest floor is almost devoid of any growth because of tall evergreens that filter out the sunlight. Islands tend to be uniquely individual eco systems that host varieties of flora; from wild flowers blooming in spring; to native Fir, Cedar, Arbutus and Garry Oak trees; to fruit trees that provide a spectacular announcement of the coming summer season and annual harvests in the summer and fall; to the salal undercover that characterizes so many of the Gulf Islands. All areas have shoreline animals such as mink, sea and river otters, and the ocean is home to a myriad variety of fishes, sea lions, seals and pods of killer whales. The air belongs to the soaring eagles, hawks, great blue heron, woodpeckers, owls, kingfishers, gulls, ducks and geese and many other sea birds and song birds. Deer are common and a nuisance to the serious gardener but high fences around the growing area can thwart these animals. Bears, wolves and cougars are rarely, if ever seen on any of the Gulf islands.

8. Water
Smaller islands tend to have more difficulty in producing drinking water from wells. As in many parts of the world, water can be scarce on some islands. We often do not think about a lack of water here as a result of the amount of rain we typically get; however drinking water is another matter. Larger islands tend not to have difficulty proving water. Some smaller islands rely on rainwater collection, or on state-of-the-art desalination plants. Desalination is actually relatively inexpensive compared to drilling 300 feet, or more, into solid rock in the hope of finding water. In addition, a desalination plant will produce excellent quality (and great tasting) drinking water. Water storage is another key consideration. During the dry summer months when wells tend to be less productive, water storage capacity is valuable from the perspective of both having a sufficient supply as well as having fire-fighting capacity. Remember, when you are on a private island, help can sometimes be a distance away!
9. Power, Telephone, and On-Site Services
Depending on the individual, the availability of on-site services can have a big impact on one's enjoyment of an island. A small percentage of private islands enjoy the luxury of electricity. Most island owners get by with using solar inverter systems and propane for cooking, refrigeration, and hot water. In effect, on site power generation can provide all of the conveniences of the city. Some islands have shore cable power. Shore cable power offers tremendous convenience for those used to such luxuries. In some cases, however, the cost of running undersea power cables long distances and through great depths is prohibitive. Large private islands such as James Island and Subtle Island, have a significant underwater power cable. Regardless, electricity is a tremendously valuable asset on an island if for no other reason than to keep the ice cubes flowing. Telephone service is no longer a necessity due to excellent cell phone and satellite coverage up and down many parts of the coast.
10. Caretakers
A good caretaker can be worth his or her weight in gold. Since islands are very private places, it is always worthwhile to consider the security of the investment. Vacant properties can be inviting to casual explorers, campers, kayakers or other members of the public. In addition, there are unfortunately vandals and thieves out there on our beautiful coast and any waterfront property not in eyesight of a neighbour should have a caretaker or someone keeping an eye on the premises for the owner. A caretaker should also be there to ensure that the island continues to operate properly throughout the year. Winter storms can cause trees to fall, shingles to become detached from roofs and other damage to occur. An onsite caretaker should have the ability to act as a security guard as well as a handy man and ambassador to visitors. With all considerations aside, the fact remains that the splendid isolation of owning your own island will always have tremendous appeal. Perhaps it is the idyllic fantasy complete whereby you are the master of your own island…the master of your own domain…and destiny.