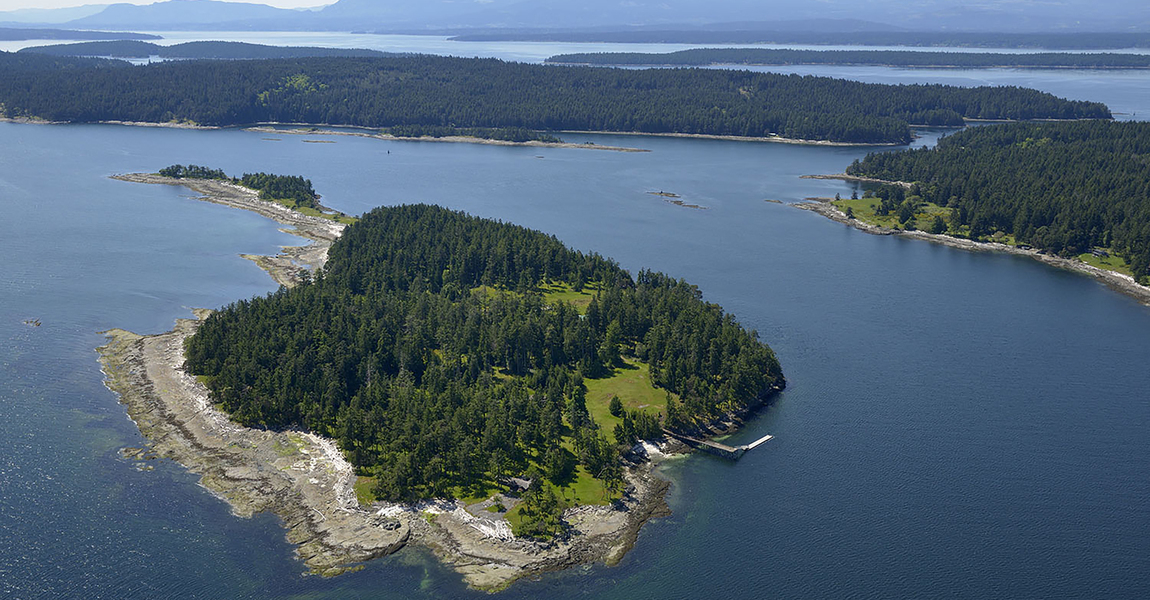 Property Facts & Highlights
Approximately 65 acres of pristine beauty
Highest point is 70 feet above sea level
The island boasts two homes, a large workshop, and foreshore rights with a private year-round dock and pier.
Situated at the top of British Columbia's beautiful Southern Gulf Islands, 65 acre Breakwater Island is situated adjacent to Gabriola Island, and offers two homes, a large workshop and an excellent dock and pier with protected deep water moorage. Positioned at one of the three main entrances into the Gulf Islands, this is one of the finest locations given its access to the Strait, and its proximity to Silva Bay's services on Gabriola. Easily accessible by boat and float plane, the island provides for 4 titles, making this an excellent group purchase.  

Contact Colliers International Today
Property in detail
Located near the entrance of Silva Bay just off the southeastern shore of Gabriola Island, Breakwater Island enjoys the serenity of sheltered waters while taking advantage of the surrounding services and amenities. Gabriola Island has regularly scheduled ferry service from Nanaimo and is one of the six larger islands forming the southern Gulf Islands chain of British Columbia.  
Breakwater Island is located within a group of islands off of the eastern tip of Gabriola Island known as the Flat Top Islands (named for their characteristic low profiles). Aptly named, Breakwater provides shelter for Gabriola Passage which is one of the primary gateway passages into BC's famous Gulf Islands.

Breakwater has excellent boat access and is serviced with municipal power, exceptional well water, an excellent dock and all season boat ramp.
Show More

See Less

Details
Island Overview
Sitting at about 70 feet above sea level at its highest point, Breakwater Island consists of approximately 65 acres of pristine beauty with more than a mile of waterfront. The island is a self-contained private estate, offering a park-like setting with nature trails interrupted only by picturesque coves and viewpoints. Breakwater Island provides all of the attributes that one can find only in such a Gulf Island environment, including several eagles' nests.
Breakwater Island is characteristic of the Gulf Islands with mature stands of picturesque timber, dominated by fir, cedar and arbutus trees. The island boasts two homes, a large workshop, and foreshore rights with a private year-round dock and pier. 

A large area in the central part of the island is open meadow where it is quite common to see the local herd of White Tail deer grazing on the undergrowth. The island is also home to several nesting eagles that hunt and fish in the abundant natural setting of the island. Thrasher Rock, about a mile offshore from Breakwater Island, is a well-known and popular fishing destination and the crabbing and prawning in the vicinity of the Island are excellent. Clams and oysters are also readily harvestable on the beaches of Breakwater Island. 

Improvements
Only minutes from the sandy swimming beaches of Breakwater Island are two homes nestled within a five-minute walk from each other.
Breakwater Log House
The larger of the two houses, Breakwater Log House, is situated on the northeast corner of the island, providing miles of breathtaking views cross the Strait of Georgia, the Coast Mountains (20 miles to the east) and other islands in the Flat Top Group.  Built by hand in 1933, the log house is about 1,200 square feet and has been renovated several times, most recently in 2003 by the current owners. The authentic design of the log house has been carefully maintained with large logs, including bark, forming the inner and outer walls. The rustic, yet modern, house boasts a beautiful fireplace with two original totem carvings supporting the mantle. There are two working fireplaces in the home. The Breakwater Log House is great for entertaining with two bedrooms furnished with queen beds and a queen pullout in the living room. The master bedroom has an ensuite with shower, and there is another bathroom with a shower off the kitchen/laundry area.  The most recent renovation of the house provides modern conveniences not typically expected in a character log home.
Breakwater Stone House
Facing northwest towards Silva Bay is the smaller of the two houses, Breakwater Stone House.The Stone House has two bedrooms and one bathroom, plus a full kitchen and front and back patios. The residence is a perfect guest or caretaker's residence overlooking Gabriola Passage and the private dock and wharf.
Workshop
Breakwater Island has an impressive workshop. The original workshop was 40' x 40' and was extended with a 40' x 60' addition in recent years to provide ample room for boat storage and vehicle maintenance. The building is heated and insulated with poured concrete foundation andconcrete floors. There is also a 20' x 20' water room with four large storage tanks as well as filtration, pressure and pump facilities. Finally, a 20' x 60' outside covered carport area provides for wood and vehicle storage.